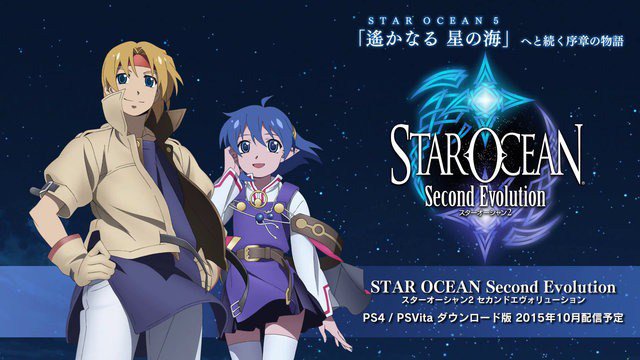 This PS4/Vita remake of the original PS1 classic came out in Japan last year and now that Star Ocean 5 released on PS4 in June, many wonder when we are seeing this game next. Sadly, the game has no localization plans in mind at the time being.
Yamagishi-san he was the producer that created the PSP remake and released the PS4 and Vita version in Japan. After he released the remake he hasn't really done anything for the West. At this moment, there are no plans to release that title in the West," Kobayashi told Siliconera.

He continued, "However, these are my personal thoughts and nothing has been decided yet, but since I am kind of rebooting the [Star Ocean] series I know that I can't leave it alone. I would love to release it somehow. Maybe create a back catalog or have some way to purchase it because I know a lot of people and maybe even people who play this new title would want to play the older [Star Ocean] titles too."

"I know we should probably do this. I don't know if it will be me or Yamagishi-san again, but there should be a way to do this. There are no plans this moment, but I am thinking about it."
This however does indicate Yamagishi does see the desire for this to get localized and we will likely see it come over in the future. This is not unlike Adventures of Mana, a game that released to the west on iOS/Android but not on Vita, but after feedback from fans & #VoteVita movement, they brought the game over to the Vita last month.
We will likely hear about this game in the future and we will update the story as it develops.
Source: Siliconera